Greetings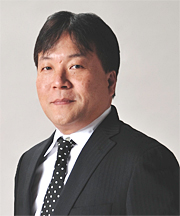 Takuzo Aida
Deputy Center Director
RIKEN Center for Emergent Matter Science (CEMS)
Dear fellow scientists,
We are pleased to cordially invite you to attend the CEMS International Symposium on Supramolecular Chemistry & Functional Materials 2024 (CEMSupra 2024) to be held in Tokyo, Japan on January 18-19, 2024.
RIKEN Center for Emergent Matter Science (CEMS) was established in April 2013, combining the principles of physics, chemistry, and electronics at RIKEN. The basic principle of our center revolves around the study of "emergent" phenomena, in which the collective assembly of multiple elements exhibits remarkable properties that cannot be predicted from the individual components. The ultimate goal of CEMS is to develop breakthrough energy solutions based on these emergent materials. To accomplish this mission, our center's three divisions, specializing in physics, chemistry, and electronics, work together and synergistically.
As part of our ongoing efforts, we are organizing this symposium, which encompasses all aspects of supramolecular chemistry and its applications to functional materials. The symposium will cover topics such as smart surfaces, energy conversion systems and bio-related materials. Our goal is to provide a scientific platform for the exchange and sharing of experiences, ideas, and research results among distinguished speakers. By discussing recent advances and scientific challenges in the field, we aim to identify future research directions, foster scientific exchange among participants, and initiate important collaborative research projects.
CEMSupra has become the flagship symposium in the field. The inaugural CEMSupra in 2013 featured 15 distinguished scientists and witnessed an impressive turnout of over 320 participants, including 62 poster presentations. CEMSupra 2016 exceeded expectations with more than 400 attendees, 102 posters, and 14 distinguished invited speakers. CEMSupra 2018 and CEMSupra 2019 have been equally successful. The positive feedback we received from attendees about their experience at the symposium was truly gratifying. For CEMSupra 2024, we are honored to invite distinguished scientists from around the world to speak at the symposium. We encourage you to take advantage of the opportunity to interact with the speakers and attendees through insightful presentations and engaging poster sessions.
We look forward to your presence at CEMSupra 2024 in Tokyo, where we believe you will find inspiration, collaboration, and an enriching experience.
Sincerely,
Takuzo Aida
Deputy Center Director
CEMSが主催する「超分子化学と機能性材料に関する国際シンポジウム2024」(CEMSupra 2024)が、2024年1月18日から19日にかけて、東京大学伊藤謝恩ホールで開催されます。このシンポジウムでは、国内外から国際的に著名な研究者を招聘し、分子集合体科学、機能性ナノ材料、ソフトマテリアル、有機電子デバイス、生体関連材料など、超分子化学と機能性材料に関わる研究分野の最先端の講演が行われます。参加費は無料ですので、ぜひご参加ください。
CEMSは、物理学、化学、エレクトロニクスの基礎を統合する理研のセンターとして、2013年4月に設立されました。センターの目標は、「創発物性・機能の発現」です。創発とは、複数の構成要素からなる集合体が、個々の構成要素の性質の総和とは異なる「質的に新しい性質」を示す現象を指します。CEMSの究極の目標は、この創発物性を持つ材料を基に、エネルギー問題の解決や環境に優しい機能素材の開発に向けた基礎と応用の架け橋となる方法論を提供することです。物理学、化学、エレクトロニクスの3つの分野が緊密に連携し、この使命を達成することを目指しています。
本シンポジウムはCEMSの活動の一環として、超分子研究部門を中心に企画されました。このシンポジウムを通じて、関連する科学分野の研究者が最新の研究成果やアイデアを共有し、議論することで、将来の研究方向を見つけ出し、共同研究を促進し、さらなる進展を図ることを期待しています。過去4回のシンポジウムで多くの皆様にご参加いただき、またポスター発表もいただき、大成功を収めることができました。今回も学生を含む多くの方々に参加いただけるよう、参加費を無料としております。参加登録はホームページからお願いいたします。
CEMSupra 2024でお会いできることを心より楽しみにしております。
理化学研究所創発物性科学研究センター
副センター長 相田 卓三